I'm exhausted!
We three bunnies got to play in the living room lots yesterday! Mom and Dad won't let us up there unless they are with us. We're told we are mischief makers but honestly, we're just doing what bunnies do!
We made it behind the love seat (which mom has tried to barricade), behind the couch (which mom has tried to barricade), and then we resorted to hopping on the furniture instead of behind it. And of course, we ran up and down the stairs!
But by late evening we were all quite tired. And then mom started taking pictures! Can't a bunny get any rest around here?
Pictures narrated by mom:
First, Shadow was too tired to wonder what Sable and Gandalf were up to.
Next, it was Gandalf who decided he had had enough.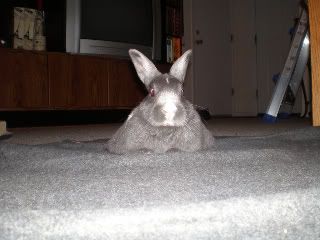 Sable played until she quite elegantly flopped over and took a little nap.
Everyone has settled down, maybe now I can get some rest myself!