A Childhood Favorite.
When I was in first grade I remember checking out a particular book from the library several times. As an adult I can certainly see why it won the Caldecott Honor. But as a child, I simply loved the sweet story of a bunny forming a relationship with a cat in his newly adopted home. We don't have cats, but the fact that a story about bringing a new bunny home resonated with me as a child comes as no surprise now. The book is called Marshmallow and was written by Clare Turlay Newberry.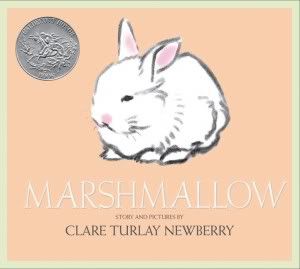 When I first began using chat rooms in the mid 90's, that was my username because I remember loving the book and the bunny. It has stayed with my always.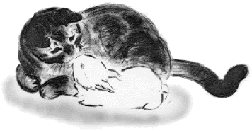 As an adult I have bought myself a copy of my own and thoroughly enjoyed it still. It ends with a sweet poem I thought you might enjoy.
A bunny's a delightful habit,
No home's complete without a rabbit.
Brighten our home with a bunny,
He's fat, he's frisky, he's funny.
He's soft, he's downy,
He's cute, he's clown-y,
Oh, brighten your home with a bunny!
I highly recommend a copy for yourself.